Crawl Space Mold Remediation in Ontario, California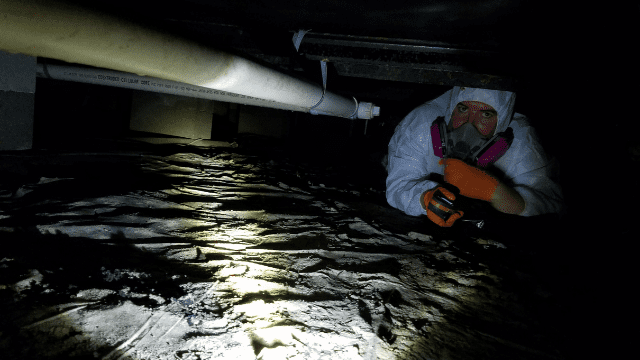 It's easy to neglect a crawl space. After all, how often do you personally have to head down there? Chances are unless you're doing ductwork or maintenance on your foundational supports, you rarely have any reason to enter such a tight and confined space. 
But there's a great reason you should at least check it now and then, and that's to determine if your property has become the unfortunate victim of a mold infestation. Mold, if ignored or undetected for too long, can become a property-wide problem. So, if you find it in your crawl space it's best to seek professional crawl space mold remediation immediately. 
Today our experts at United Water Restoration Group of Ontario, California would like to take you inside the crawl space mold remediation process to give you an idea of what such a project entails.
Our Crawl Space Mold Remediation Process
If you suspect you have mold in your crawl space or you've been able to confirm it already, reach out to us at (909) 500-1195. 
Our friendly staff is standing by to take your call. Upon learning a little bit about your situation we can dispatch trained professionals your way immediately.
Once our mold experts have arrived on the scene, they'll gear up and enter your crawl space to examine the mold-affected areas. 
Our experts may also ask to look at other areas on your property to make sure mold hasn't spread beyond the crawlspace, ensuring that when the mold remediation is underway it's stopped completely in its tracks.
To stop any further spread of mold, affected areas will be subjected to a negative air method to contain the infestation.
With the use of HEPA filtration and high-powered vacuum systems, mold spores and other airborne contaminants are removed from the air. This aspect of crawl space mold removal is to restore the air quality to safe levels equal to that of the outdoors.
Mold-affected areas are subjected to extensive antifungal and antimicrobial treatments to combat existing mold while also preventing future mold growth.
To wrap up your crawl space mold remediation, any mold-infested materials will be removed and replaced from the site. This will render your crawl space completely mold-free, bringing your crawl space mold remediation to a close.
Contact Us Today
When you find yourself in need of crawl space mold remediation, don't hesitate to call. The professionals at United Water Restoration Group of Ontario, California are standing by for you at (909) 500-1195 and we're available 24/7 year-round.